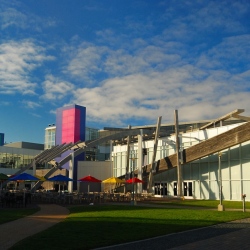 Within hours of Google launching its new online storage service, the terms and service have come under heavy fire by the wider community for being able to potentially stifle innovation and harm the users' Google seeks to serve.

After Dropbox and Microsoft's SkyDrive — the two largest online storage services on the Web — Google was late to the party by a number of years. While Google needed no advertising to drum up support, what may hold back uptake is that as per the terms and conditions of using the product, the files you upload to the Google Drive product undergoes a rights transition.

A quick analysis of Google's terms of service shows how the search company owns the files you upload the minute they are submitted, and can in effect do anything it wants to your files — and that's final. But there is a small catch.

Here's what the terms say:

Dropbox — terms can be found here:

"Your Stuff & Your Privacy: By using our Services you provide us with information, files, and folders that you submit to Dropbox (together, "your stuff"). You retain full ownership to your stuff. We don't claim any ownership to any of it. These Terms do not grant us any rights to your stuff or intellectual property except for the limited rights that are needed to run the Services, as explained below."

Microsoft's SkyDrive — terms can be found here:

"5. Your Content: Except for material that we license to you, we don't claim ownership of the content you provide on the service. Your content remains your content. We also don't control, verify, or endorse the content that you and others make available on the service."

Google Drive — terms can be found here:

"Your Content in our Services: When you upload or otherwise submit content to our Services, you give Google (and those we work with) a worldwide licence to use, host, store, reproduce, modify, create derivative works (such as those resulting from translations, adaptations or other changes that we make so that your content works better with our Services), communicate, publish, publicly perform, publicly display and distribute such content.

The rights that you grant in this licence are for the limited purpose of operating, promoting and improving our Services, and to develop new ones. This licence continues even if you stop using our Services (for example, for a business listing that you have added to Google Maps)."

The last sentence makes all the difference. While these rights are limited to essentially making Google Drive better and to develop new services run by Google, the scope is not defined and could extend far further than one would expect.

Simply put: there's no definitive boundary that keeps Google from using what it likes from what you upload to its service.

The chances are Google's terms will never be an issue — and it is likely over-zealous lawyers making sure Google doesn't somehow get screwed in the long run by a lawsuit — but it may be enough to push away a great number of entrepreneurs and creative workers who rely on holding on to the rights to their own work.

The fact is, according to its terms, Google may own any code or product you ultimately upload to its new Google Drive service, whether you realise it or not.

It always pays to read the fine print.

I asked Google to see if they can shed light on how its terms of service translates in comparison to other, rival services. Google did not respond at the time of publication.

Updated at 8 p.m. to clarify that the first sentence of the Google terms states: "You retain ownership of any intellectual property rights that you hold in that content. In short, what belongs to you stays yours." For more on this topic, See Rafe Needlemen's FAQ.