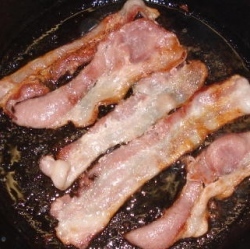 If you've flirted with vegetarianism like I have, then you're probably aware of a range of meat substitutes, all of which pale in comparison to the real thing.

But now Beyond Meat CEO and founder Ethan Brown says that mock meat is about 80 percent of the way to being able to sub in for the real thing without anyone being the wiser, in terms of taste, texture and appearance.

Brown made that claim on stage today at the WIRED Business Conference, where he was discussing the role of proteins in our diet in general and how Silicon Valley investment-backed startups like his own are trying to shake up perhaps one of the oldest and most entrenched industries: the meat market.

Beyond Meat grabbed headlines as an unlikely target for investment by Obvious Corp., the investment vehicle/incubator/idea factory co-founded by Biz Stone and Evan Williams of Twitter fame. In a blog post from August, Stone outlined exactly why Obvious felt that Beyond Meat was a prime investment target, and how it aligned with the Obvious vision.