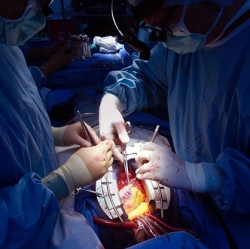 Medical students can now practise surgical techniques on 3D models and animations instead of working on cadavers or dummies. The interactive system allows students to repeat techniques several times, and at their own pace.

Potential future uses could include helping patients understand their diagnosis and treatment options. Attending the launch, Health Secretary Alex Neil said: "This is a really exciting development which shows how new technology can be used to help improve care and treatment for Scottish patients.

"I was delighted to visit the Golden Jubilee to see first-hand how this innovative technique will help to train our doctors of the future.

"I look forward to seeing how it develops, and how it can be rolled out further to train more doctors in more specialties."

The training is currently being used within the Golden Jubilee's Enhanced Recovery Programme, for teaching on knee anatomy and regional anaesthesia. It could potentially be used for training in other specialties.

The project was developed by Dr Robert Robi Zimmer, a consultant anaesthetist at the hospital's orthopaedic service, and a software development consultant. Dr Zimmer said: "As a national resource for the NHS in Scotland, with our own specialist research and clinical skills facility, it is important that we are at the forefront in delivering new and innovative training programmes.

"The 3D training programme is currently in its infancy but the opportunities are limitless and that is something which will benefit patients across Scotland.