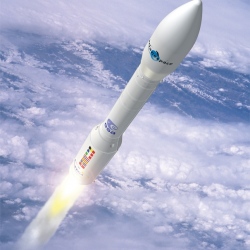 The 30m-tall vehicle, first conceived in the 1990s, will launch on what is termed a qualification flight from the Kourou spaceport in French Guiana.

It will carry nine satellites into orbit but the object of the mission is really to prove the rocket's systems all work as designed.

Vega has been developed to assure European access to space for payload classes weighing less than 2.5 tonnes.

At the moment, these smaller satellites tend to ride converted Russian ICBMs to get into orbit and they can sometimes wait many months to get a launch slot.

Vega should allow European operators to have more control over the schedules of their space projects. It also means that the value of what it is an immensely high-tech enterprise will return to the European economy, not to foreign industry.

"Vega gives Europe the ability to launch small satellites," said Jean-Jacques Dordain, director general of the European Space Agency (Esa).

"New technologies – and in particular the miniaturisation of technologies – are making for more and more small satellites. This is particularly true of scientific satellites such as Earth observation spacecraft. So, Vega has a fantastic perspective in front of it provided we succeed," he told me.