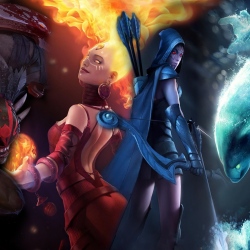 Valve and Blizzard have ordered their legal teams to heel and come to a mutual agreement over the rights to the DOTA name. The studios announced today that Valve has dibs on the use of DOTA commercially, while Blizzard can keep calling its noncommercial Warcraft III mods DOTA. In other words, nothing changed. Well, except for one thing: Blizzard DOTA is dead. Long live Blizzard All-Stars!

In a brief joint statement, Blizzard and Valve said they are both pleased to settle their DOTA dispute.

"Both Blizzard and Valve recognize that, at the end of the day, players just want to be able to play the games they're looking forward to, so we're happy to come to an agreement that helps both of us stay focused on that," Blizzard VP Rob Pardo said in a statement.

"We're pleased that we could come to an agreement with Blizzard without drawing things out in a way that would benefit no one," said Gabe Newell, president and co-founder of Valve. "We both want to focus on the things our fans care about, creating and shipping great games for our communities."

For gamers, that means the game formerly known as Blizzard DOTA and Valve's DOTA 2 won't fall into release limbo over a lengthy legal dispute. Hooray! Instead, they'll fall into the release limbo created by the infamously long and often delayed development cycles at Blizzard and Valve.