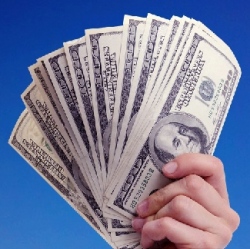 U.S. venture firms deployed $84 billion in more than 8,000 companies last year, according to research firm PitchBook. The last time this much money sloshed around Silicon Valley and other tech hubs, many venture firms lost their investments in the dot-com bust.

That's far less likely to happen today.

"While the figures are comparable to the dot-com era, the VC ecosystem appears healthy and driven by different dynamics," PitchBook CEO and founder of John Gabbert said in a statement. "Later-stage companies with strong consumer traction are commanding large rounds of financing."

There is a downside for investors: Because so many companies are staying private longer, they're finding it harder to get their money out. The number of exits fell for the third consecutive year, the report said, the lowest since 2011.

Companies opting to stay private longer means that startups are continuing to seek more money from their venture capital backers, often asking for larger deal sizes as their firms grow. SoftBank Group Corp.'s $100 billion Vision fund and other non-traditional investors such as corporate venture funds have continued to boost this trend, funding companies that otherwise would have gone public or sold themselves.

Billion-dollar-plus companies, known as unicorns, raised north of $19 billion in capital, more than they have in any other year on record, PitchBook said. A slew of large rounds helped buoy funding to the recent high, including 33 investments of $100 million or more in both the second and fourth quarters, according to a separate report published Wednesday from researcher CB Insights.

Some of the largest deals in 2017 were Lyft Inc.'s two rounds totaling more than $2.5 billion, WeWork Cos.'s $3 billion injection from SoftBank and $450 million raised by Elon Musk's Space Exploration Technologies Corp.

Venture firms started 209 funds that raised a total of $32 billion, including New Enterprise Associates' $3.3 billion vehicle raised in June 2017, the largest ever raised. Other notable funds raised in the final few months of the year included a $450 million life sciences fund at Andreessen Horowitz and a $400 million fund at Redpoint Ventures. SoftBank isn't included in this total because it's not considered a traditional VC.