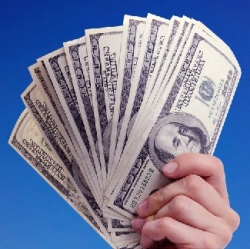 The Atlanta Federal Reserve GDPNow forecasting model provides a "nowcast" of the official estimate prior to its release by estimating GDP growth using a methodology similar to the one used by the U.S. Bureau of Economic Analysis.GDPNow is not an official forecast of the Atlanta Fed.

Rather, it is best viewed as a running estimate of real GDP growth based on available data for the current measured quarter.

The GDPNow model estimate for real GDP growth (seasonally adjusted annual rate) in the third quarter of 2018 is 5.0 percent on August 1, up from 4.7 percent on July 31. The nowcasts of third-quarter real consumer spending growth and third-quarter real private fixed investment growth increased from 3.1 percent and 5.2 percent, respectively, to 3.4 percent and 5.8 percent, respectively, after this morning's construction spending report from the U.S. Census Bureau and this morning's Manufacturing ISM Report On Business from the Institute for Supply Management.

The second quarter GDP was 4.1%.

U.S. GDP was $19.8 trillion at the end of 2017. Current-dollar GDP increased 7.4 percent, or $361.5 billion, in the second quarter to a level of $20.4 trillion. The US GDP is tracking to $21.1 to 21.2 trillion at the end of 2018. If the US had similar economic performance for 2019 then the US GDP would be $22.6 trillion at the end of 2019.