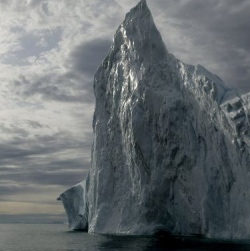 Backed by an oil industry giant, the Obama administration recently tested a drilling technique in Alaska's Arctic that it says might eventually unlock "a vast, entirely untapped resource that holds enormous potential for U.S. economic and energy security." Some experts believe the reserves could provide domestic fuel for hundreds of years to come.

U.S. Geological Survey

Natural gas is released from methane hydrates.

Those crystals, known as methane hydrates, contain natural gas but so far releasing that fuel has been an expensive proposition.

The drilling has its environmental critics, but there's also a climate bonus: The technique requires injecting carbon dioxide into the ground, thereby creating a new way to remove the warming gas from the atmosphere.


"You're storing the CO2, and also liberating the natural gas," Christopher Smith, the Energy Department's oil and natural gas deputy assistant secretary, told msnbc.com. "It's kind of a two-for-one."

The Energy Department, in a statement last week, trumpeted it as "a successful, unprecedented test" and vowed to pump at least $6 million more into future testing.

"While this is just the beginning, this research could potentially yield significant new supplies of natural gas," Energy Secretary Steven Chu announced.