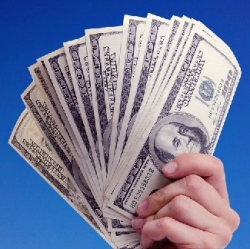 Economist Karl Widerquist remembers a poll from 10 years ago that showed just 12 percent of Americans approved of a universal basic income. That's changed, and quickly. Today, 48 percent of Americans support it, according to a recent Northeastern University/Gallup survey of more than 3,000 U.S. adults.

The survey looked at universal basic income as a solution for Americans who have lost jobs to automation.

"It represents an enormous increase in support," said Widerquist, an associate professor at Georgetown University in Qatar and an advocate for a universal basic income. "It's really promising."

Proposals for universal basic income programs vary, but the most common one is a system in which the federal government sends out regular checks to everyone, regardless of their earnings or employment.

Pilots programs are underway in Canada and rural Kenya. India, with a population of more than 1.3 billion residents, is considering establishing a universal basic income as well. Finland's trial with a universal basic income, in which payments were given to 2,000 unemployed people, will come to an end this year.

Y Combinator Research, based in Oakland, California, started a test of a basic income last year and is raising funds to expand the research project. This year, in Stockton, California, Mayor Michael Tubbs' Stockton Economic Empowerment Demonstration will give several dozen low-income families $500 each month in a study of basic income. Alaska residents have each received a payment annually for decades from the Alaska Permanent Fund, which has ranged from around $330 to more than $2,000.

These examples are an opportunity to refute many of the myths about a universal basic income, said Guy Standing, co-founder of the Basic Income Earth Network. He recently spoke at the World Economic Forum in Davos, Switzerland, on the subject.

"The claim is often made that if you give people a basic income, they'll become lazy and stop doing work," Standing said. "It's an insult to the human condition.

"Basic incomes tend to increase people's work rather than reduce it."

That's because research has shown that a basic income can improve people's mental and physical health, Standing said, as well as encourage them to pursue employment for reasons more meaningful than just a need to put food on the table.

Rising income inequality and its effects have triggered a "perfect storm" for basic income, Standing said.

"People are saying, 'Look we cannot let inequality continue to grow, because the political consequences could be a disaster'," Standing said, pointing to the recent rise of more authoritarian figures.