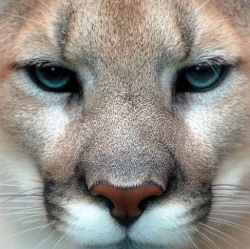 Eighty thousand years ago the Earth began to cool, marking the start of the last Ice Age. Experts are still discovering how the big freeze affected the giant mammals which prowled its dramatically changing landscape.

Scientists are helping to uncover the secrets of giant Ice Age beasts like the sabretooth cat – by foraging in crates of dirt which were collected during the building of a car park.

Wooden boxes were built around deposits of earth in 2006 after construction workers discovered the near-complete skeleton of a woolly mammoth while digging underground parking spaces at the Los Angeles County Museum of Art.

The crates were designed to salvage the remains for scientists at nearby Page Museum while also making way for the bulldozers.

More than three million prehistoric fossils from 600 species have been excavated from California's tar pits, which trapped and preserved Ice Age creatures as they roamed the territory tens of thousands of years ago.

The 23 crates, which each have a resident palaeontologist, and 327 buckets of fossil material are yielding vital discoveries and are expected to take several years to examine in full.