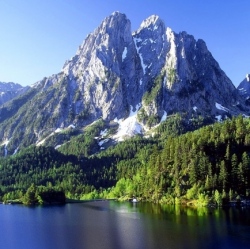 A senior UN official has described the world's forests as "fundamental" to human well-being and survival. Eva Mueller, director of the Food and Agriculture Organization's Forestry Division, said trees provided a direct source of food, fuel and income.

Commenting on the findings of the UN's State of the World's Forest report, she added forests habitats were home to an estimated 80% of global biodiversity. The report has been published at a UN forestry meeting in Rome, Italy.

She added: "Food from the forests – like fruit, nuts, mushrooms, leaves, roots, insects and wild animals – often contributes a nutritious supplement to rural people and provides a safety net in times of hardship.

"Forests, trees, farms and agroforestry systems contribute to food security, nutrition and livelihoods in several ways including as a direct source of food, fuel, employment and income," Ms Mueller explained.

"They are fundamental to the survival of forest dwellers, including indigenous people. The report, which was published at the start of the UN's World Forest Week, said that it was time for the sector to shift its focus from "trees to people".