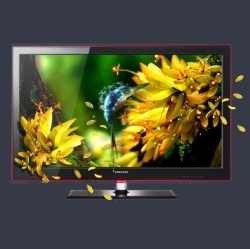 Toshiba released the "REGZA 55X3" LCD panel with 3,840 × 2,160 resolution and naked eye 3D viewing resolution High Definition.

Now already available in Japan and Germany, TV is all set to hit US and will retail for just over $10,000. Toshiba demonstrated the latest version of the 55inch 4Kresolution auto stereoscopic (the glasses free) 3DTV in CES 2012. It has QuadHD playback at 2D (that equates to whopping 3,840by2,160 pixels) and standard-ish 720p resolution while viewing the 3D without specs.

Wikipedia on 4K resolution TVs.

YouTube is the only video hosting service that allows 4K videos to be uploaded as it allows a resolution of up to 4096 x 3072 (12.6 megapixels)

Examples of 4K cameras are the Dalsa Origin (released in 2006 as the first commercially available 4K camera and records images at 4096 × 2048), the Red One (released in 2007 and records images at 4096 × 2304), the Red Epic (released in early 2011), the Sony CineAlta F65 (announced in April 2011), the JVC GY-HMQ10 (released in 2012), and the Canon EOS-1D C DSLR (to be released in October 2012).

DisplaySearch projects that manufacturers will only sell about 5,000 4K TVs this year worldwide and won't sell more than a million per year until 2015.

8K ultradefinition will be demoed at the London 2012 Olympics

The final goal is for 8K UHDTV to be available in domestic homes, though the timeframe for this happening varies between 2015 to 2020 but Japan and China may get it in the 2013-2014 time frame. BBC intends to trial UHDTV during the 2012 Summer Olympics, erecting 15 meter display screens at three locations