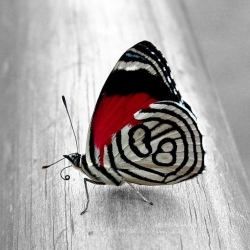 UK butterfly numbers are at a "historic low", according to conservationists. The charity Butterfly Conservation issued the warning ahead of its annual survey, the Big Butterfly Count. Difficult weather conditions, including last year's wet summer and the recent cold spring, have exacerbated population declines, say experts.

But there is some hope that the hot start to July could help the insects to bounce back.

"The washout weather of 2012 proved a disaster for our butterflies; these conditions, coupled with long-term declines, means there are probably fewer butterflies in the UK than at any point during my lifetime," said Sir David Attenborough, the charity's president.

"Butterflies are vitally important. Their presence acts as a barometer of the health of our environment. Their ongoing decline tells us that all is not well in the British countryside."

The Big Butterfly Count is a "citizen scientist" survey where the public are invited to record the insects flying in their local green space.

They are provided with a chart of 19 common garden butterflies and 2 day-flying moths and asked how many of each can be spotted in 15 minutes.