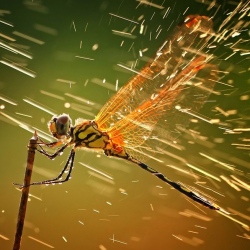 The U.S. military is developing these. innocent-looking devices that are actually some of the most sophisticated drones on the planet. They resemble children's toys that are left disgarded in closets around the world. (Pics and video)

The U.S. Air Force is developing the miniature spy craft with the goal of making them so small that they resemble birds and even insects.

Some even have moving wings that military chiefs hope will look so convincing that people won't pay them any attention.

The Micro Air Vehicles (MAVs) are being developed at Wright-Patterson Air Force Base in Dayton, Ohio.

The base's Air Force Research Laboratory mission is to develop MAVs that can find, track and target adversaries while operating in complex urban environments.

The engineers, led by Dr Gregory Parker, are using a variety of small helicopters and drones in the lab to develop the programs and software.

Testing takes place in a controlled indoor environment, during which data is gathered to analyse for further development.

The trials are the latest research into tiny drones funded by the U.S. military.

The US Defense Advanced Research Projects Agency has spent years developing a whole host of cyborg critters, in the hopes of creating the ultimate 'fly on the wall'.

Two years ago, researchers revealed that they had created cyborg beetles that can be guided wirelessly via a laptop.

Using implants, they worked out how to control a beetle's take-off, flight and landing by stimulating the brain to work the wings.

They controlled turns through stimulating the basilar muscles on one side or the other to make the wings on that side flap harder.

The embedded system uses nerve and muscle stimulators, a microbattery and a microcontroller with transceiver.

They were implanted in the beetles when they were at the pupal stage.

Three types of large beetles from Cameroon were used in the experiments at the University of California in Berkeley. The smallest was 2cm long, while the largest was 20cm.