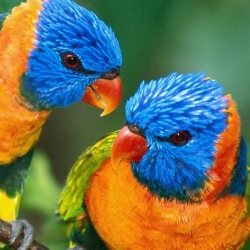 Small is the new big thing on Twitter, as the company is, at long last, providing small businesses with a way to advertise on the social network.

Twitter is rolling out its self-serve advertising product to a select group of small businesses, the company announced Monday. American Express, Twitter's launch partner for the program, is handling the notification process and both companies will invite more small businesses into the fold in the weeks ahead.

The self-serve platform democratizes two of Twitter's ad products — Promoted Tweets and Promoted Accounts — and makes them accessible to businesses of all sizes, regardless of their budgets.

The two ad products allow for geographic targeting of tweets and accounts, and are offered on a pay-per-engagement basis. With Promoted Accounts, a business pays when a Twitterer follows their account. With Promoted Tweets, an advertiser pays for each click, retweet, reply, or favorite. Advertisers can set daily spend limitations and specify how much they're willing to pay for each engagement.

The self-serve ad platform is Twitter's first real attempt at becoming a contender in the online advertising war. In finally creating a hands-off system, Twitter has the opportunity to beef up revenue without additional overhead and, in theory, can now challenge Facebook and Google for online ad dollars. Realistically, the self-serve ad platform, when launched in full, will chip away at Yelp's advertiser pool before it makes an assault on Facebook or Google.

But we're getting a tad ahead of ourselves. The platform remains exclusive to American Express cardmembers and merchants until Twitter opens the offering more broadly later this year, a company spokesperson told VentureBeat.

Twitter has 140 million active users who send 340 million tweets per day. The information network is anticipated to bring in $259.9 million in revenue in 2012, according to eMarketer.