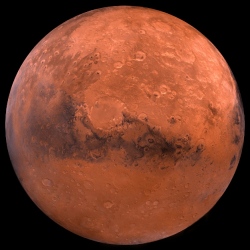 President Trump on Tuesday signed a bill authorizing funding for NASA while setting a new goal to send humans to Mars. The president signed the bill in the Oval Office flanked by authors and sponsors of the bill, including Sens. Ted Cruz (R-Texas) and Marco Rubio (R-Fla.)

The law, known as the NASA Transition Authorization Act, gives the space agency $19.5 billion in funding for fiscal year 2018. It also asks the agency to create a plan to send a "crewed mission to Mars in the 2030s."

Lawmakers also require NASA to create ways to "extend human presence, including potential human habitation on another celestial body and a thriving space economy in the 21st Century."

NASA is receiving slightly more money than Trump requested in his 2018 budget blueprint. It included $19.1 billion for the agency, which would have been a modest funding cut.