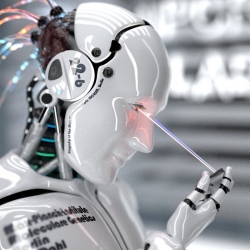 About two months ago, a new employee arrived on the production line at Vanguard Plastics in Southington, Connecticut, a town that was once a hub of U.S. manufacturing but saw many of its factories disappear in the 1960s. The small manufacturer's new worker, Baxter, is six feet tall, 300 pounds, and a robot. For a hulking machine, Baxter is remarkably expressive. A pair of eyes on the screen that serves as a face stare down as the robot picks up plastic components, look concerned when it makes a mistake, and direct its glance at its next task when one is finished. It's cute. But the real point of these expressions is that they let workers nearby know instantly if Baxter is performing appropriately, and they provide clues to what it is about to do next. Even more amazing, when Baxter is done with one task, a fellow worker can simply show the robot how to start another. "Almost anyone, literally, can in very short order be shown how to program it," says Chris Budnick, president of Vanguard Plastics. "It's a matter of a couple of minutes."

Baxter is the first of a new generation of smarter, more adaptive industrial robots. Conventional industrial robots are expensive to program, incapable of handling even small deviations in their environment, and so dangerous that they have to be physically separated from human workers by cages. So even as robotics have become commonplace in the automotive and pharmaceutical industries, they remain impractical in many other types of manufacturing. Baxter, however, can be programmed more easily than a Tivo and can deftly respond to a toppled-over part or shifted table. And it is so safe that Baxter's developer, Rethink Robotics, which loaned Baxter to Vanguard Plastics, believes it can work seamlessly alongside its human coworkers.

Baxter's talents could, for the first time, bring the benefits of robotics and automation to areas of work where it never made sense before. This might mean lost jobs for an already struggling low-skill workforce. But it could also help the United States compete in the global manufacturing market against countries that offer low-wage labor. The amount of manufacturing in the United States has declined dramatically over the last few decades, in part because workers in other parts of the world will perform simple and menial jobs for far less. But robots like Baxter could wipe out that advantage by taking over such tasks, making it once again possible for many industries to competitively manufacture their products in the United States and other developed countries.