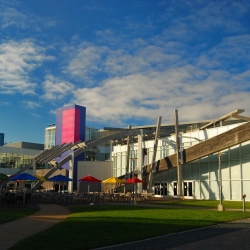 After covering Google's I/O developer conference, one thing is clear: This isn't the same Google that created Google+. Instead, the conference showed us just far Google has come in delivering products you'd actually want to use. And, in most cases, you can also see how those products reinforce each other and Google's services, which have typically been the company's strength.

I predicted we'd see how Google plans to take over the world, and the company didn't disappoint. It all starts with Android: Google showed off a preview of Android L, its next big update, which features a bold and colorful design aesthetic that will also carry over to Google's other products. Android L will also support a wider variety of processors, and it features a new runtime that will speed up all of its apps.

A new AndroidOne program gives Google more control over how Android hardware is rolled out in developing markets. We even got a glimpse of Android apps running on Chrome OS, which could make Chromebooks a lot more useful (right now, they're basically just dedicated web browsers). We also got a deeper look at Android Wear at I/O, which seems like it could be the first successful smartwatch platform.

The gist of Android Wear isn't much different from when Google announced it a few months ago, it's still heavily focused on notifications and Google Now integration, but it was nice to see that Wear devices actually live up to all of their slick promotional videos. The Moto 360, in particular, seems like a smartwatch that could be a hit with average consumers.