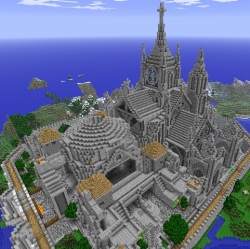 Last month, Minecraft-developer Mojang revealed the next world it wants to build one block at a time: our own.
Block by Block, Mojang and the United Nations Human Settlements Programme's (UN-Habitat) new three-year partnership, rebuilds urban areas worldwide according to how their communities want them. Together, they're using Minecraft to visually simplify the planning process.
"Block by Block came about after one of the main forces behind Mina Kvarter, Jorgen Hallstrom, spoke with Thomas Melin from UN-Habitat," Lydia Winters, Mojang's director of fun, told GamesBeat. "Jorgen told him how well-received Mina Kvarter had been in Sweden, and the idea was formed to modify it into a new collaboration between Mojang and UN-Habitat."
On Sept. 5, Mojang and UN-Habitat announced the global reconstruction project at the sixth World Urban Forum (WUF) in Naples, Italy. "WUF is UN-Habitat's major conference each year, where people from all over the world meet to discuss urban planning," said Winters, who attended the event. "It was a completely amazing experience and opened my eyes to many things I'd never even thought about before."
Winters explained that Mojang's role in the partnership involves providing financial support, raising awareness, and making Minecraft accessible to UN-Habitat — which in turn chooses locations and uses the sandbox-building game to plan the public spaces.
"We are extremely excited about the impact a project like this will have on the world," she said. "The goal is 300 public spaces by 2016. It's quite a lofty goal, but I think it's something that can be accomplished. When you think of public spaces, it doesn't always mean building a huge structure — although in come cases, it will. The goal will be to create safe public areas and use Minecraft to help facilitate the community coming together and planning out their own area. Right now, we are working on being able to start the first project in Kibera."