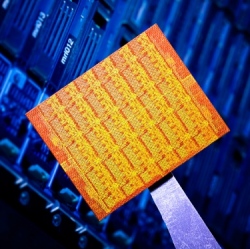 Downsizing big bulky terahertz detectors for integration on CMOS image chips has been accomplished by the University of Texas with funding from the Semiconductor Research Corp. Accomplished under SRC's Focus Research Program, the demonstration of terahertz speeds on standard CMOS opens a door for a new slew of consumer devices that can see through solid objects.

"We can now build a CMOS image chip for a cell-phone-sized camera module that sees in the terahertz range," said Ken O, a professor and lead researcher for SRC's program at UT Dallas and a key investigator in the Center for Circuit and System Solutions, a part of SRC's Focus Center Research Program.

Today terahertz cameras are used, for instance, in the airport to see inside luggage and under clothing to detect hidden weapons, but the devices require expensive discrete components. By downsizing terahertz sensors for standard CMOS chips, the terahertz camera can be both size and cost reduced in the extreme.