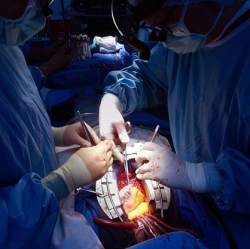 New devices that promise to enhance our telepresence experiences are nice, but what we really need, right now, is better telemedicine technology, particularly in emergency situations. A new solution called the LifeBot 5 offers the promise of exactly that.

The portable, 15-pound LifeBot device is ruggedized for use hazardous outdoor conditions and designed to be an all-in-one telemedicine hub. LifeBot can monitor blood pressure, heart rate, body temperature, has electrocardiography (ECG) and ultrasound capability, and allows doctors to read data and send instructions to remote medics and emergency personnel in real-time. The device also gives on-site medics an audio and video connection to other medical units, a particularly vital feature in emergency cases when an additional consultation is needed.

Medics using the LifeBot 5 will access a system originally developed via a $14 million Department of Defense grant through the Telemedicine and Technology Research Center (TATRC) and the Army Medical Research and Materiel Command (USAMRMC). According to the company, future versions of the device will feature a defibrillator and offer a smaller overall footprint.