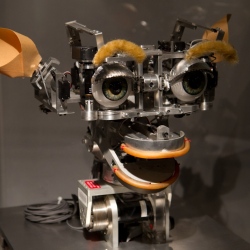 Don't believe what the sci-fi movies tell you. When it comes to understanding our world, robots are stupid. Like computers, robots only do what we program them to do. And that's a big problem if we're ever going to realize the dream of practical robot helpers for the masses. Wouldn't it be great if anyone could teach a robot to perform a task, like they would a child? Well, that's precisely what Maya Cakmak has been working on at Willow Garage.

Cakmak, a researcher from Georgia Tech, spent the summer creating a user-friendly system that teaches the PR2 robot simple tasks. The kicker is that it doesn't require any traditional programming skills whatsoever – it works by physically guiding the robot's arms while giving it verbal commands.

After inviting regular people to give it a try, she found that with few instructions they were able to teach the PR2 how to retrieve medicine from a cabinet and fold a t-shirt. Such tasks may be easy for us, but for a robot they are very difficult. That's why most scientists don't take the threat of a robopocalypse very seriously just yet – they know how difficult it is to get a robot to do anything even remotely useful.