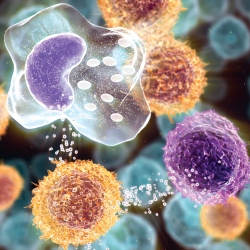 The scientists, from Imperial College London and the University of Vigo, have created a test to detect particular molecules that indicate the presence of disease, even when these are in very low concentrations. There are already tests available for some diseases that look for such biomarkers using biological sensors or 'biosensors'. However, existing biosensors become less sensitive and predictable at detecting biomarkers when they are in very low concentrations, as occurs when a disease is in its early stages.

In today's study, the researchers demonstrated that the new biosensor test can find a biomarker associated with prostate cancer, called Prostate Specific Antigen (PSA). However, the team say that the biosensor can be easily reconfigured to test for other diseases or viruses where the related biomarker is known.

In their study, the team detected PSA at 0.000000000000000001 grams per millilitre, which is at the limits of current biosensor performance. By comparison, an existing test called an Enzyme-Linked Immunosorbent Assay (ELISA) test can detect PSA at 0.000000001 grams per millilitre, which is nine orders of magnitude more concentrated.

The biosensors used in today's study consist of nanoscopic-sized gold stars floating in a solution containing other blood derived proteins. Attached to the surface of these gold stars are antibodies, which latch onto PSA when they detect it in a sample. A secondary antibody, which has an enzyme called glucose oxidase attached to it, recognises the PSA and creates a distinctive silver crystal coating on the gold stars, which is more apparent when the PSA biomarkers are in low concentrations. This silver coating acts like a signal that PSA is present, and it can be easily detected by scientists using optical microscopes.

The next stage of the research will see the team carrying out further clinical testing to assess the efficacy of the biosensor in detecting a range of different biomarkers associated with conditions such as HIV and other infections. They will also explore ways of commercialising their product.