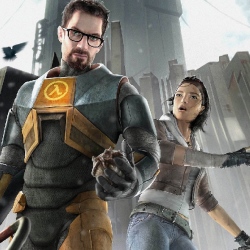 Two entertainment greats — film maker J.J. Abrams and game maker Gabe Newell — sparred with each other today about whose medium was better. The truth is, however, that their media have moved closer to each other and become more like "transmedia," or entertainment that crosses platforms. Their conversation was an entertaining look at what we can learn in between the borders between different media.
And then they revealed that they are working with each on movie and game projects.
Abrams' star has risen in Hollywood as he directed films such as Super 8 and Star Trek. Last week, Disney named him the director of the upcoming Star Wars: Episode 7 movie.
Newell is a celebrity in his own right, as Valve is the maker of Half-Life, Portal and Portal 2, Left 4 Dead, Counter-Strike, and others — all highly regarded and notable games. Valve also runs the Steam digital game distribution and community service on the PC, and it is considering entering the living room console market with the so-called Steam Box, an open Linux-based machine.
The two celebrities shared their views on stage at the 12th annual DICE Summit, an elite game industry event in Las Vegas. Abrams thanked Newell for the games that he and his family have enjoyed over the years. The audience laughed throughout the conversation, and the faux antagonism was clearly staged to make the divisions between movies and games seem sharper.