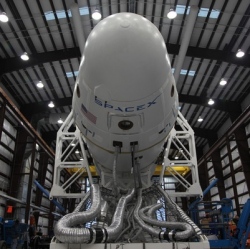 SpaceX successfully carried a half-dozen Orbcomm satellites into space, days after the rocket maker achieved a major milestone in the military launch certification process that opens the door for lucrative contracts with the U.S. government.

The six satellites, which were built by Sierra Nevada Corp. and launched from Cape Canaveral Air Force Station in Florida, are the first of 17 that Orbcomm is launching as part of a $230 million expansion of its communication satellite fleet. While Monday's satellite launch was successful, SpaceX failed to recover its Falcon 9 rocket after it fell back to Earth, according to a tweet by SpaceX founder and CEO Elon Musk.

The rocket maker is trying to develop a reusable rocket core that can land on Earth by refiring its engines and deploying landing legs. SpaceX regularly launches commercial satellites into orbit for telecommunications companies such as Orbcomm. It also has a $1.6 billion contract with NASA to run cargo resupply missions to the ISS and is competing against Sierra Nevada Corporation and Boeing for future NASA contracts to ferry astronauts to and from the space station.

But SpaceX is angling for more lucrative rocket contracts with U.S. military and intelligence agencies, which plan to spend $70 billion dollars by 2030 to launch high-end spy satellites. Musk told Congress in March that SpaceX could supply launches for 75 percent less than United Launch Alliance. ULA charges several hundred million dollars per launch, depending on the payload. SpaceX's commercial satellites launches cost less than $100 million.

SpaceX does not have access to the military's Evolved Expendable Launch Vehicle (EELV) program because the company has not yet demonstrated it can deliver payloads to space with the same success rate as ULA, which boasts 68 consecutive successful launches.