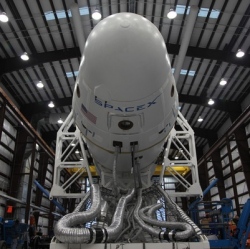 SpaceX's Grasshopper flew 250 meters (820 feet) straight up, tripling the height flown on its previous leap. The video provides a great overhead view from SpaceX's hexacopter.

Grasshopper is a 10-story Vertical Takeoff Vertical Landing (VTVL) vehicle that SpaceX has designed to test the technologies needed to return a rocket back to Earth intact.

Spacex is trying to rapidly implement the reusability technology. They will retrieve a Falcon 9 first-stage rocket component from a water landing in the ocean later this year. SpaceX will try to land a first-stage on dry ground in 2014.

Spacex will go higher and faster in each of a series of flights this year and they hope to reach hypersonic speed before 2013 is out.

The maximum mission altitude would be increased from 670 feet incrementally up to 11,500 feet. The altitude test sequence likely would be 1,200 feet; 2,500 feet; 5,000 feet; 7,500 feet; and 11,500 feet. The maximum test duration would be approximately 160 seconds.

In October 2012, SpaceX indicated that a second Grasshopper vehicle with fold-up landing legs would be built on the longer Falcon 9 v1.1 platform. As of March 2013, the v1.1 Grasshopper suborbital flight vehicle will be constructed out of the Falcon 9 v1.1 first-stage tank that has been used for qualification testing in Texas at the SpaceX Rocket Development and Test Facility for the past several months. It will be rebuilt as the next Grasshopper "with flight-like landing legs." Test plans call for the v1.1 Grasshopper to be flight tested only at White Sands Missile Range, New Mexico, at altitudes up to approximately 91,000 metres (300,000 ft).