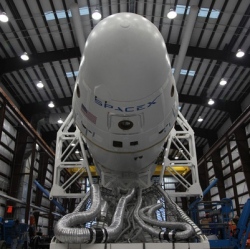 SpaceX has been certified by NASA for Falcon 9 to carryout Category 2 space missions. These are "medium risk' launches such as satellites and less expensive probes. The Atlas 5, Delta 2 and Pegasus XL rockets operate under this certification. It took 3 years for Falcon 9 to complete the certification process.

Russians have had 16 botched launches in 6 years. Russian Prime Minister Dmitri Medvedev has ordered the formation of a special commission to probe the failed launch early Saturday of a Russian rocket carrying a Mexican satellite into space. This is the latest in a string of launch failures.

The probe announcement came just hours after the Proton-M rocket and its payload exploded in the skies over Kazakhstan about eight minutes after liftoff. The Russian federal space agency Roscosmos, in an early report, said a problem in the rocket's steering engines surfaced in the suborbital third stage of the launch.

Russia's Interfax news agency, quoting a Roscosmos spokeswoman, said the Medvedev probe order included instructions to determine the "exact causes" of the failed launch and to "make proposals for personal and financial accountability for this incident."