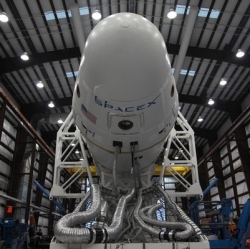 A privately built robotic space capsule arrived at the International Space Station early Wednesday (Oct. 10) to make the first-ever commercial cargo delivery to the orbiting lab under a billion-dollar deal with NASA, Space.com reports.

The unmanned Dragon spacecraft was captured by station astronauts using a robotic arm after an apparently flawless approach by the cargo-laden space capsule, which was built by the private spaceflight company SpaceX. It is the first of 12 resupply flights SpaceX will fly for NASA under a $1.6 billion deal.

SpaceX launched the Dragon spacecraft into orbit on Sunday (Oct. 7) atop a Falcon 9 rocket (also built by the company) from a pad at Cape Canaveral Air Force Station in Florida. It is expected to spend at least three weeks linked to the space station and be filled with nearly 2,000 pounds (907 kilograms) of experiment results and station gear for the return trip to Earth.