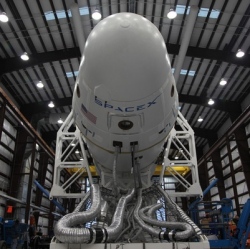 The United States Air Force Space and Missile Systems Center has awarded SpaceX two Evolved Expendable Launch Vehicle (EELV)-class missions: DSCOVR (Deep Space Climate Observatory) and STP-2 (Space Test Program 2).



To be launched on SpaceX's Falcon launch vehicles in 2014 and 2015 respectively, the awards mark the first EELV-class missions awarded to the company to date.

The DSCOVR mission will be launched aboard a Falcon 9 and is currently slated for late 2014, while STP-2 will be launched aboard the Falcon Heavy and is targeted for mid-2015. Both are expected to launch from Space Launch Complex 40 at Cape Canaveral Air Force Station, Florida.

Both missions fall under Orbital/Suborbital Program-3 (OSP-3), an indefinite-delivery/indefinite-quantity contract for the US Air Force Rocket Systems Launch Program. OSP-3 represents the first Air Force contract designed to provide new entrants to the EELV program an opportunity to demonstrate their vehicle capabilities.