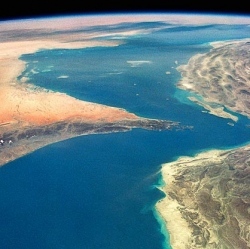 The internet has become a critical means of communication during humanitarian crises and a crucial everyday tool for people around the world. Now Quarkson plans to use unmanned aerial vehicles (UAVs) to transmit internet access "to every corner of the world."

Quarkson's SkyOrbiter program is similar to Google's Project Loon, which also seeks to deliver internet access to remote places. Where Google plans to float internet-enabled balloons above the earth, however, Quarkson intends to use a fleet of high-range UAVs much like the Titan Aerospace Solara 50 to deliver connectivity from orbit.

The SkyOrbiter fleet comprises six different low-altitude models and three high-altitude models. The most basic SkyOrbiter is the LA25. It is designed for commercial and government use and is able to provide connectivity to areas where none is available. The LA25 has a wingspan of about 25 m (82 ft), operates at 3,500 m (11,500 ft) and has a range of over 42,000 km (26,000 mi) or up to two weeks.