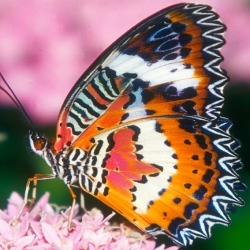 Scientists found an increase in leg, antennae and wing shape mutations among butterflies collected following the 2011 Fukushima accident.

The link between the mutations and the radioactive material was shown by laboratory experiments, they report.

The work has been published in the journal Scientific Reports.

Two months after the Fukushima Daiichi nuclear power plant accident in March 2011, a team of Japanese researchers collected 144 adult pale grass blue (Zizeeria maha) butterflies from 10 locations in Japan, including the Fukushima area.

When the accident occurred, the adult butterflies would have been overwintering as larvae.

Unexpected results

By comparing mutations found on the butterflies collected from the different sites, the team found that areas with greater amounts of radiation in the environment were home to butterflies with much smaller wings and irregularly developed eyes.

"It has been believed that insects are very resistant to radiation," said lead researcher Joji Otaki from the University of the Ryukyus, Okinawa.

"In that sense, our results were unexpected," he told BBC News.

The Japanese researchers have been studying the species for more than a decade
Prof Otaki's team then bred these butterflies within labs 1,750km (1,090 miles) away from the accident, where artificial radiation could hardly be detected.