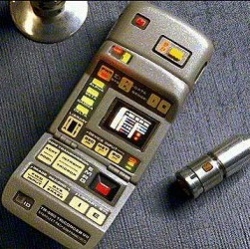 Star Trek fans rejoice, the Tricorder is here.

Medical tech startup Scanadu has created a scanner that appears to have been inspired by those of Drs. McCoy and Crusher. The 'Medical Tricorder' scanner can take vitals such as blood pressure, pulmonary function, and temperature, and sends them to your smartphone. The device can make the difference between a needed trip to the emergency room or a waste of time and money for conditions that don't need treatment.

The company just raised $2 million in funding from a group of investors that includes Sebastien De Halleux, co-founder of social network game maker Playfish. The money's an impressive accomplishment considering Scanadu isn't even a year old. Founded in January 2011, the company is staffed with a team of visionaries like Walter De Brouwer. The Belgian futurist co-founded Starlab in 1996 with MIT Media Lab founder Nicholas Negroponte. He first got the idea for the Tricorder while at Starlab but the technology wasn't mature enough at the time. In 2006 his son was in a serious accident and hospitalized for three months. De Brouwer again got to thinking about leveraging technology to empower people by allowing them to auto-diagnose and make informed decisions concerning health.