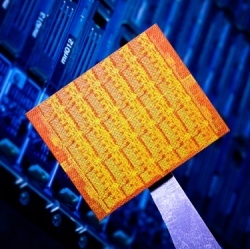 Here's something to distract from Samsung's massive legal loss to Apple: Dutch chip technology company ASML announced this morning that Samsung has committed around $976 million to help spur on next-generation lithography techniques.

Samsung has purchased 3 percent of ASML for 503 million euros (around $630 million) and will offer up an additional 276 million euros (around $346 million) for R&D purposes.

Samsung is the last company to join ASML's co-investment program, which also includes Intel and TSMC. ASML says it aims to develop new lithography technologies, including Extreme Ultraviolet (EUV) lithography, to "extend Moore's Law." (Above: A crazy image of one of ASML's EUV demo units.)

To refresh: Moore's Law is the observation that transistor amounts on integrated circuits double every 4 years, and it led to the to the more commonly heard observation that chip performance doubles every 18 months.

Ultimately, ASML says the research "will enable smarter, more powerful, more energy-efficient and cheaper electronic devices for consumers." We can expect to see ASML's innovations in Samsung's future mobile chips in smartphones and tablets.

Samsung, Intel, and TSMC now have a total minority (non-voting) stake in ASML of 23 percent. ASML says it will give back the entire cash proceeds from issuing the shares back to its shareholders via a synthetic buy-back.