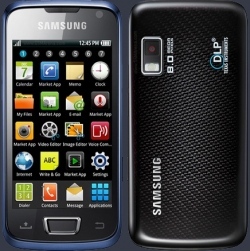 The company said it expects an operating profit 5.8tn won ($5.1bn; £3.2bn) for the period.

The success of Samsung's Galaxy range has seen it become the world's biggest-selling smartphone maker.

Analysts said the firm had benefited from keeping its margins healthy, despite growing competition.

"There was a big surprise in profit, while revenue was in line, which suggests a stronger-than-expected profit margin from the handset division thanks to robust sales of high-end models like the Galaxy S and Note," said Choi D-Yeon of LIG Investment & Securities.

"Handset margins are estimated to have topped 20% and profits from the division also topped 4tn won."

The company will release its full earnings report on 27 April.

While Samsung's phone unit has prospered, other divisions, including memory chip manufacturing, have been going through a tough time.

Prices for memory chips have been falling globally, not least due to oversupply.

Analysts said that natural disasters last year in Japan and Thailand had resulted in a fall in production of various electronics products, which use these chips, resulting in high inventory levels putting pressure on prices.

At the same time, slowing demand from key markets such as the US and Europe hurt chipmakers.

However, analysts said that as the global economy recovers and supply chains in the region get back on track, chip prices were likely to recover, boosting Samsung's profits further.

"With memory chip prices rising, chips will play a big part in second quarter profits," said Kim Sung-in, a chip analyst with Kiwoom Securities.

"Expectations for operating profit will reach somewhere between 6.5tn to 7.5tn won."

Challenges

While the company is expected to grow further, analysts warned that Samsung will have to overcome potential hurdles on the way.

To begin with, it will have to fend off competition from its biggest rival Apple, they said.

"Samsung and Apple are expected to launch the new Galaxy S and iPhone in the second quarter, and they will engage in full-fledged war," said Lee Ka-keun of Hana Daetoo Securities.

The fear is that increased competition may force Samsung to lower its prices in a bid to attract customers, a move which, if implemented, would impact on its profit.

At the same time, Samsung is also involved in a legal battle with Apple over patents involving technology it uses in its smartphones and tablet PCs.

The outcome of those cases will have an impact on its growth going forward.