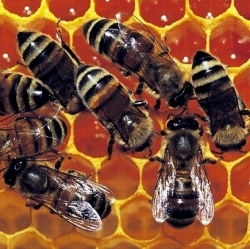 Research at the Universities of St Andrews and Dundee has confirmed that levels of neonicotinoid insecticides accepted to exist in agriculture cause both impairment of bumblebees' brain cells and subsequent poor performance by bee colonies.

The contribution of the neonicotinoids to the global decline of insect pollinators is controversial and contested by many in the agriculture industry. However, the new research, published in the Journal of the Federation of American Societies for Experimental Biology, demonstrates for the first time that the low levels found in the nectar and pollen of plants is sufficient to deliver neuroactive levels to their site of action, the bee brain.

Dr Chris Connolly, a Reader in the Division of Neuroscience at Dundee's School of Medicine, has spent several years examining the risk from neonicotinoids and other commonly used classes of pesticides on both honeybees and bumblebees.

He and his colleagues at Dundee carried out combined laboratory and field studies and the data was analysed by Professor Steve Buckland at St Andrews. The results showed very low levels of neonicotinoids caused bumblebee colonies to have an estimated 55 per cent reduction in live bee numbers, a 71 per cent reduction in healthy brood cells, and a 57 per cent reduction in the total bee mass of a nest.

Dr Connolly says the paper represents the best scientific evidence to date connecting neonicotinoid consumption to poor performance of bees and that the effects of the pesticide must be considered by policy makers seeking to protect the abundance and diversity of insect pollinators.