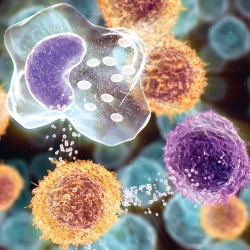 The generation of these breast cancer stem cells counteracts the otherwise highly efficient radiation treatment. If scientists can uncover the mechanisms and prevent this transformation from occurring, radiation treatment for breast cancer could become even more effective, said study senior author Dr. Frank Pajonk, an associate professor of radiation oncology and Jonsson Cancer Center researcher.

"We found that these induced breast cancer stem cells (iBCSC) were generated by radiation-induced activation of the same cellular pathways used to reprogram normal cells into induced pluripotent stem cells (iPS) in regenerative medicine," said Pajonk, who also is a scientist with the Eli and Edythe Broad Center of Regenerative Medicine at UCLA.

"It was remarkable that these breast cancers used the same reprogramming pathways to fight back against the radiation treatment."

"Controlling the radiation resistance of breast cancer stem cells and the generation of new iBCSC during radiation treatment may ultimately improve curability and may allow for de-escalation of the total radiation doses currently given to breast cancer patients, thereby reducing acute and long-term adverse effects," the study states.

There are very few breast cancer stem cells in a larger pool of breast cancer cells. In this study, Pajonk and his team eliminated the smaller pool of breast cancer stem cells and then irradiated the remaining breast cancer cells and placed them into mice.

Using a unique imaging system Pajonk and his team developed to visualize cancer stem cells, the researchers were able to observe their initial generation into iBCSC in response to the radiation treatment. The newly generated iBCSC were remarkably similar to breast cancer stem cells found in tumors that had not been irradiated, Pajonk said.