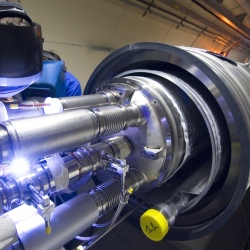 First Minister Alex Salmond has announced an annual prize, named after Prof Peter Higgs, for school students. Prof Higgs said: "I hope that this will inspire young students of today.

"Rewarding those who have excelled in physics in this way and supporting the next generation of scientists is to be warmly welcomed."

The Higgs Prize, open to Scottish school students who excel in physics, will be formally launched by the First Minister and the scientist on Tuesday. It is part of a week designed to showcase Scotland's scientific expertise, with Mr Salmond also expected to make a significant announcement about life sciences and mark a landmark in space science.

Prof Higgs hit upon his defining concept during a walk in the Cairngorms in 1964, when he started to consider the existence of a particle that gives matter its mass. He wrote two scientific papers on his theory and was eventually published in the Physical Review Letters journal, sparking a 40-year hunt for the Higgs boson.

In July, a team from the European nuclear research facility at Cern, Geneva, announced the detection of a particle that fitted the description of the elusive Higgs. The Higgs Prize will give young physics students the chance to win a trip to Cern, where work researching the Higgs particle continues.

"I know very well how exciting and amazing visits to Cern can be," said the professor, who has retired from Edinburgh University.

Mr Salmond hopes Prof Higgs' achievements would "inspire future generations of Scots".

"His work is celebrated internationally and Scotland is very proud of him," he said.