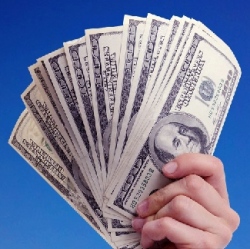 Tech companies started facing their mortality as the Dow Jones Industrial Index opened down 1,000 points. The worst of the plunge eventually reversed, as the Dow recovered and was down only 503.62, or 2.16 percent, about 90 minutes after opening. The tech-heavy Nasdaq was down 101.43, or 2.16 percent.

It is the scenario many feared after U.S. markets ended last week with steep drops. For months, investors shrugged off problems like the Greek financial crisis and the deteriorating Chinese economy. But in recent days, the gloom has finally reached U.S. shores, and investors seem to be overcompensating by selling everything in sight.

One example, Apple fell to as low as $92 from its close of $105.76 on Friday. But after 90 minutes, the stock climbed back to $103.79 after Apple CEO Tim Cook took the extraordinary step of emailing a CNBC reporter to argue that the company's business in China still looked strong.

Tech companies are suffering from a stark correction. When the stock markets opened, compared to Friday's closing price, Facebook was down 12.1 percent to $75.62, Apple was down 10 percent to $95.17, Amazon was down 6.4 percent to $463.03, Microsoft was down 5.8 percent to $40.59.

And the list goes on and on. Smaller companies suffered as well. Netflix opened down 14.7 percent to $88.67 following a few months of great performance. PayPal, which recently became independent, also opened down 9 percent to $31.17. Twitter was down 8.9 percent to $23.56.