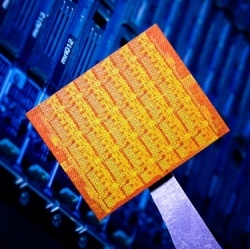 Jen-Hsun Huang, chief executive of Nvidia, made the announcement of the GeForce GTX 690 graphics card at the Nvidia Games Festival in Shanghai, where more than 6,000 gamers are attending the event.

The GTX 690 has two of Nvidia's most powerful graphics chips based on the code-named Kepler graphics architecture. The graphics card has an exotic look with an exterior frame made from trivalent chromium-plated aluminum. It has a fan housing made from thixomolded magnesium alloy, and it delivers high-performance with lower power using a heavy-duty but efficient power supply.

The GTX 690 has 3,072 Nvidia CUDA cores, which can handle both graphics and non-graphics processing tasks. The card delivers close to double the frame rates of the Nvidia GTX 680, which has a single Kepler-based graphics chip. The single-card 690 is more power efficient and quieter than a system with two GTX 680 cards running in SLI configuration. Nvidia introduced the 680 last month. The new GeForce GTX 690 card will be available in limited quantities on May 3 with wider availability on May 7. Add-in card partners include ASUS, EVGA, Gainward, Galaxy, Gigabyte, Inno3D, MSI, Palit and Zotac.

The price is expected to be $999.