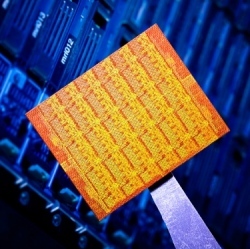 Oak Ridge National lab has received its initial complement of Nvidia's next-generation Kepler GPUs and has installed them in the "development platform" — which is a segment of the former Cray "Jaguar" supercomputer that's being transformed to a 20-petaflops machine (to be renamed "Titan") and could even be the world's fastest computer if things work out.

ORNL received thousands of Kepler GPUs in September.

There has been a question about whether ORNL would have the Kepler GPUs installed in the cabinets in time for the transformation to a hybrid architecture with Titan in time for the new TOP500 List of the world's fastest supercomputers in November.

That's still not clear, and Nichols was a little coy in his response to questions about when these power-boosters would become operable.

"Our DOE target date for the Keplers being available to our users is March 2013," Nichols said. "We will change the name (from Jaguar to Titan) once we have gotten through acceptance (most likely sometime between December 2012 and March, 2013)."

So far, the Department of Energy has approved the purchase and installation of 14,592 GPUs in Titan, the ORNL official said.