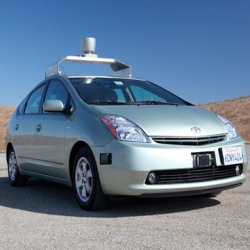 "Nissan Motor Co. pledges that we will be ready to bring multiple affordable, energy efficient, fully autonomous-driving vehicles to the market by 2020," Executive Vice President Andy Palmer said during a presentation in Southern California.

Nissan demonstrated on Tuesday how a prototype self-driving Leaf electric car could use a combination of laser guidance systems, radar sensors and cameras to navigate around a track with various obstacles.

The car could detect a red light and slow to a stop. When a dummy pedestrian jumped in front of the car, it automatically swerved to the left to avoid a collision. When a test driver engaged the turn signal, the car turned right to simulate exiting a freeway.

The Nissan prototypes don't use a rotating device on the roof, as some of Google's prototype self driving cars do. Instead, Nissan engineers said, their sensors are built into the car.

The big challenge is not technology. The big challenge is regulations.

Beginning in 2020, Mr. Palmer said Nissan plans to roll out autonomous driving technology and make it available across its model lineup within two product generations, or roughly between eight and 10 years thereafter.