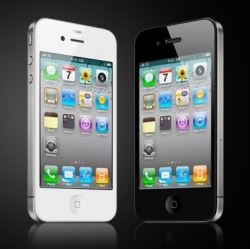 he next iPhone's launch is so close that we practically know everything there is to know before Apple's even announced it (assuming the rumors and leaks are all true). One thing you probably didn't know was that the next iPhone will be super thin.

The Apple leakers over at Apple.pro and SharpDaily have both managed to get purported iPhone 5 parts and have put them up against the ruler.

According to their measurements, the new iPhone will have a thickness of only 7.6mm, a significant reduction from the iPhone 4S's 9.3mm frame. That's thin. So thin that not including that metal back plate on the phone's rear might have weakened it's structural strength.

In order to get that thickness, Apple's eliminated the glass panel on the iPhone 5's rear and is likely going to bond the glass to the LCD, which should make self-repairs even harder than ever.

The two sources also note that the "pill-shaped" dock port is not a 19-pin connector, but actually a 9-pin one. Recent logs in the beta versions of iOS 6 support this.

While it won't be the thinnest smartphone ever — that honor goes to the 6.65mm Oppo Finder Huawei Ascend P1 S, depending on whether you need care for a 3.5mm audio jack or not — it's still remarkably thin.

Apple's expected to show off the new iPhone with a larger 4-inch display, slimmer profile, new charging port and iOS 6 at an event on September 12. Hold on to your butts, things are about to get crazy, all over again.