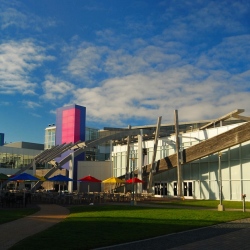 Alongside traditional .com and .net domain names, endings like .guru, .club, and .ninja are beginning to roll out to the general public. One of the largest supporters of this expansion has been Google, which applied for ownership of 101 of these new domains such as .car, .eat, and .google.

Just recently, Google also quietly announced it would be offering its own domain registration service, not only is there the potential for Google to own about 100 new top-level domains (TLDs), it will be putting them (and other domains licensed from third parties) up for sale. Very few companies are in a position to challenge market leader GoDaddy (which is set for a $100 million IPO) the way that Google is. It begs the question, how might Google best tempt customers to its new service when it becomes available?

Currently, Google has applied to host a significant number of domain names that play right into supporting small businesses. Developers looking to promote their latest projects can use endings like .app or .cloud, business services professionals can take advantage of endings like .cpa, .llc, and .inc, and bloggers can use endings like .blog, .mom, .tech, and .film to distinguish themselves from other sites in their verticals.

Essentially, Google has a domain fit for almost every category of small business, and with so many .com and .net names already in use, these will likely be appealing alternatives for those looking to establish themselves online. It's certainly one way Google could readily challenge GoDaddy and become the go-to registrar for small business owners.