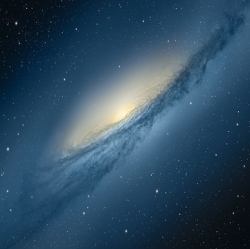 Black holes are created when a supernova explosion destroys a massive star. Scientists have discovered dozens of black holes, but all of them are already formed. So, when scientists recently saw different distorted remains of a supernova, they knew it something special.
What the scientists believe they observed was the infant phases of a black hole, or the youngest black hole ever recorded in the Milky Way galaxy.
Caught on film by NASA's Chandra X-ray Observatory, the "remnant," or W49B, is seen as a vibrant swirl of blues, greens, yellows, and pinks. As seen from Earth, it is about 1,000-years-old and is located roughly 26,000 light years away. A typical black hole, like SS433, is thought to be between 17,000- and 21,000-years-old, as seen from Earth.
"W49B is the first of its kind to be discovered in the galaxy," Laura Lopez, who led a study on the remnant at the Massachusetts Institute of Technology, said in a statement. "It appears its parent star ended its life in a way that most others don't."