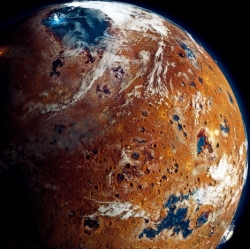 Dr. Simon Worden, director at NASA Ames Research Center, told The Register that the agency was firmly enmeshing itself with the private sector, citing cooperation on the Dragon capsule being developed by Elon Musk's SpaceX team as a good example. NASA developed a heat shield material called PICA (Phenolic Impregnated Carbon Ablator), capable of withstanding 1850 degrees Celsius (3360 degrees Fahrenheit), and gave it to SpaceX, who manufactured it.

"Governments can develop new technology and do some of the exciting early exploration but in the long run it's the private sector that finds ways to make profit, finds ways to expand humanity. That's really our tack," he explained.

This kind of cooperation has a long history, he pointed out. The age of discovery that led to the European colonization of the New World was funded by governments and royalty, while the process of getting out there, subduing the locals who were living there at the time and colonizing places, was a largely private operation.

"Most of private individuals I've talked to about interest in settling on Mars, including Elon Musk, talk about in the next few decades they think the private sector will fund settlement missions – whether to the Moon, Mars, or asteroids. As a government laboratory our job is to develop to enable those kinds of things by developing technology and early exploration, and we hope the private sector will find a way to do something like that," he said.

Settling would involve one-way missions to Mars, something the private sector could do but NASA could not he said. While he personally supported the idea of one-way trips, when NASA sends people out of the gravity well it plans to bring them back afterwards.

Musk is not the only technologist with an itch to get into orbit; it's a feature of many firms in Silicon Valley. A lot of techies like science fiction and now technical companies have the kind of budget to try and turn those ideas into science fact.

Take Tiffany Montague, who has the most interesting business card in Silicon Valley. Ms Montague, a former US Air Force high-altitude pilot, has the official job title of Intergalactic Federation King Almighty and Commander of the Universe and is in charge of coordinating Google's operation of all things orbital and beyond.

"Larry and Sergey are space enthusiasts, with and open-minded and optimistic view of the future," she told The Register. "Space is like any other engineering problem, and if Google can't solve it we'll incentivize it."