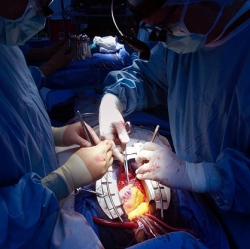 Researchers have developed a multifunctional nanoparticle that enables magnetic resonance imaging to pinpoint blood vessel plaques caused by atherosclerosis. The technology is a step toward creating a non-invasive method of identifying plaques vulnerable to rupture, the cause of heart attack and stroke, in time for treatment.

Currently, doctors can identify only blood vessels that are narrowing due to plaque accumulation. A doctor makes an incision and slips a catheter inside a blood vessel in the arm, groin or neck. The catheter emits a dye that enables X-rays to show the narrowing.

But Case Western Reserve researchers report in the journal Nano Letters that a nanoparticle built from the rod-shaped tobacco mosaic virus, commonly found on tobacco locates and illuminates plaque in arteries more effectively and with a tiny fraction of the dye.

More importantly, the work shows that the tailored nanoparticles home in on plaque biomarkers. That opens the possibility that particles can be programmed to identify vulnerable plaques from stable ones, something untargeted dyes alone cannot.

Steinmetz, a specialist in bioengineering plant viruses, teamed with Xin Yu, a professor of biomedical engineering, who specializes in developing MRI techniques to investigate cardiovascular diseases. They created a device that transports and concentrates imaging agents on plaques.