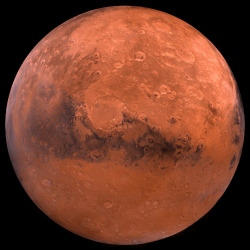 Elon Musk is a busy man. Tesla just rolled out the very first of its Model 3 cars and landed a contract to build the world's most powerful battery in Australia. The Boring Company just started digging under Los Angeles. And SpaceX, well, they've been busy launching reusable rockets into orbital missions.

Despite all this going on here on Earth, Musk still has his eyes fixed on Mars. The serial entrepreneur is determined to make humanity a multi-planetary species, but we might have to wait until the International Astronautical Congress (IAC) in September for an update on that front, according to a reply Musk sent to an inquisitive Twitter user.

Last month, Musk teased updates to SpaceX's initial mission to Mars plan, which was published earlier in June. Back then, he hinted that one of the things being reviewed is the cost of developing and operating a big rocket to ferry the Interplanetary Transport System (ITS) into space.

This is crucial, especially now that Musk has set a target price on the cost of going to Mars: $200,000 per person.