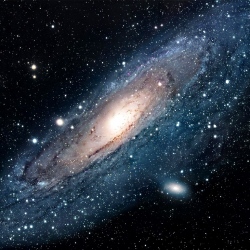 The wobbles in energy produced as a black hole consumes a star have been detected from further away than ever before.

Because they are so regular, their discoverer likes to think of the wobbles as a kind of sound. "We are able to metaphorically hear a star being devoured by a supermassive black hole," says Rubens Reis of the University of Michigan in Ann Arbor, "4.8mHz would be a very low D-sharp, slightly out of tune."

The wobbles, previously only detected in much closer black holes, allow the black hole feeding process to be compared across vast distances, which in turn acts as a test of Einstein's general relativity, the leading theory of gravity, on cosmic scales.

As the black hole is supermassive, the detection also confirms that black holes feed on star stuff in the same way, whether the black hole is the mass of 10 suns or 10 million suns. "For me that is a rather beautiful thing," says Reis.

Star shredder
Supermassive black hole Swift J1644+57 was spotted on 28 March last year when NASA's Swift telescope detected several bursts of gamma rays from a previously quiet part of the universe. The gamma rays were the first sign of the previously dormant black hole starting up again and devouring a star that wandered too close.

It looked so intriguing, Reis and his colleagues followed it up with observations from the European Space Agency's more powerful XMM-Newton space telescope. That allowed the researchers to detect slight wobbles, known as quasi-periodic oscillations or QPOs, in the amount of energy emitted as the black hole shreds the star.

Astronomers have seen similar wobbles before, but mostly in black holes with masses of only a few suns within our own galaxy. This one is supermassive, with the mass of 10 million suns, and lies 4.5 billion light years away. By measuring this wobble, astronomers can work out how close something could orbit the black hole without getting sucked in. From this they know the black hole's mass and how fast it is rotating.