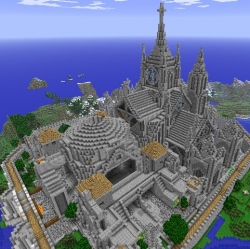 Minecraft, the hit indie open-sandbox game now coming to XBox 360 in May, has made over $80M since it's beginnings as a company in October 2011, according to a blog post in the Financial Times.

A game that's been compared to a virtual Lego set, Minecraft has been downloaded 25 million times, with over 5 million of those purchasing the full game.

The Financial Times also notes that while, it's still far short of the 700 million downloads that Rovio's Angry Birds can claim, it's been extremely profitable for the Sweden-based company Mojang, with creator Marcus "Notch" Persson sharing his own $3.7m dividends with his employees across the rest of the 25-employee company.

Carl Manneh, Mojang's managing director, says, "The core mechanic is very similar to Lego – the simplicity of placing and removing blocks and you can do whatever your imagination tells you to do. That's the strength. The side effect is that when you build something, you have the urge to show it off to someone." There are over four million YouTube videos and podcasts of gamers doing just that.

Most of this $80M came in before the game's higher profile of late, even before Minecraft came to iOS and Android smartphones. Lego is putting out a Minecraft-flavored building set, and the company brings in over $1M in revenue from merchandising through companies like Think Geek, Jinx, and Happy Socks. The increased visibility may have helped in some ways, and the Mojang crew continues to get offers from Hollywood producers to do TV shows, according to Manneh, who says that while they're open to doing so with the "right idea" and the "right people," the company focus is on developing games and growing their business.

Mojang has not raised funding through any other means than game sales and merchandising, a marked contrast to the oft-compared Rovio, who raised $42m last year to develop Angry Birds Space.