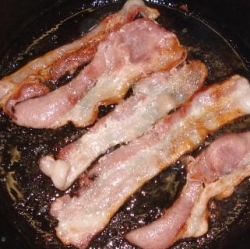 But imagine if this cut of meat, just perfect for your Sunday dinner, had been made from scratch – without slaughtering any animal. US start-up Modern Meadow believes it can do just that – by making artificial raw meat using a 3D bioprinter.

Peter Thiel, one of Silicon Valley's most prominent venture capitalists, Paypal co-founder and early Facebook investor, has just backed the company with $350,000 (£218,000).

Set up by father-son team Gabor and Andras Forgacs, the start-up wants to take 3D printing to a whole new level.

For three-dimensional printing, solid objects are made from a digital model. It's also known as additive manufacturing: to make the structure tiny droplets are "printed" – layer by layer – via a carefully controlled inkjet nozzle.